MSB - Swedish Civil Contingencies Agency.
Plan your home preparedness
If you are prepared, you are contributing to improving the ability of the country as a whole to cope with a major strain.
News
Foreign direct investments (FDI) are of great importance to Sweden's economy and competitiveness, but there are also risks associated with foreign actors acquiring Swedish companies that conduct activities worthy of protection.
The latest policy developments, workforce competence, public-private cooperation, and the cyber threat picture were all on the agenda when the MSB Cyber Security Council travelled to Washington, D.C., in the beginning of November.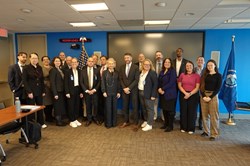 October 13 marks the international day for Disaster Risk Reduction, held every year since 1989, after a call by the United Nations General Assembly for a day to promote a global culture of risk-awareness and disaster reduction. The day is meant to acknowledge how people and communities around the world are reducing their exposure to disasters and raising awareness about the risks we face. This year's theme is Fighting inequality for a resilient future, which aligns with the Sendai Framework for Disaster Risk Reduction.