News
Two more scooping aircraft reinforce the forest fire preparedness
Since last year, MSB has an agreement with Saab AB including two scooping aircraft for extinguishing wildfires. MSB has now activated an option for two additional aircraft for the period 2021-2023.
– We continue to strengthen the forest fire preparedness, together with our Nordic and European partners, says Camilla Asp, Acting Director General of MSB.
The agreement MSB has with Saab AB provides two scooping aircraft with associated crew and other necessary logistics. The framework contract allows for an option with two additional scooping aircraft for the period 2021-2023, an option that MSB now has activated.
–The need for support will probably continue to increase in the next few years and we have to be able to meet that. Forest fires will increase in the future, due to climate change. As many countries in northern Europe currently lack this type of capacity, we see a need for two more aircraft, says Camilla Asp.
After the extensive forest fires in the summer of 2018, MSB was commissioned by the government to further strengthen the forest fire preparedness.
– There has been a lot of development on several areas the last few years at MSB, but even more at the local rescue services, who is responsible for extinguishing fires. When there is a risk of large forest fires, MSB can support the rescue services, both with ground assets, helicopters and planes. With additional planes, our ability to give support increase, says Camilla Asp.
Training and exercise in focus the first season
In 2020, the scooping aircraft was a completely new capacity in Sweden. MSB and Saab AB therefore chose to develop the capacity through training and exercise, together with local and regional authorities and the EU. In June, the capacity was activated for the first time during an mission in Örbyhus, and thereafter four times in southern Sweden. The aircraft was an appreciated reinforcement as many of the fires occurred in difficult and inaccessible terrain.
– We draw valuable lessons learned from the last season, with four scooping aircraft we create a robust capacity and gain flexibility as we can operate on several places at the same time, says Petronella Norell, acting head of National and Civil Protection Operations Section.
The first two planes is included in rescEU, the European safety net with common EU capacities, financed mostly by the EU and Sweden is the capacity host. It is yet not clear whether the new planes will be included in rescEU, but they will reinforce the capacity in northern Europe.
– In order to use our capacities effectively we need to cooperate and help each other in Europe and with our Nordic neighbours. This aerial capacity will be a reinforcement, not only to Sweden but also for northern Europe. We cannot forget the great support we got from other countries during the fires in 2018, says Petronella Norell.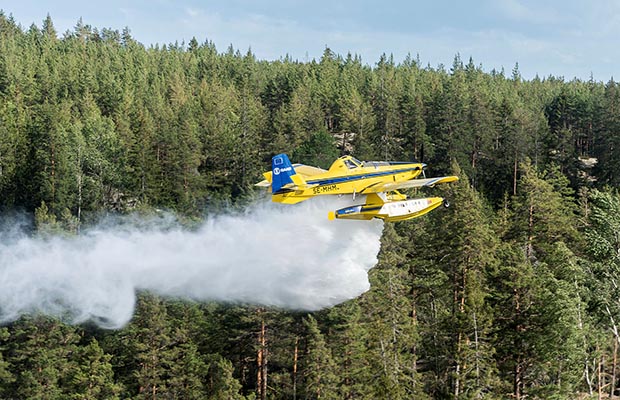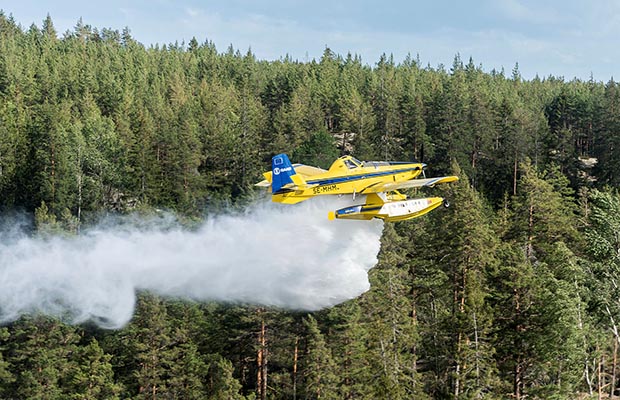 Fact
The new scooping aircraft are the same type as first ones, Air Tractor AT-802 Fire Boss.
They will be based in Nyköping, at Skavsta airport. If needed they can be based at other sites.
Water capacity: 3 000 liter.
In 2018, MSB was commissioned by the government to analyse the need for enhanced aerial forest fire capacity. MSB proposed a three-step approach, first gain access to helicopters, secondly scooping aircraft as a service and thereafter evaluate the need and conditions for, obtaining access to larger scooping aircraft.