News
MSB brings increasing humanitarian presence to crisis-affected countries
Over the past months, access to humanitarian aid has deteriorated in many crisis-affected countries worldwide, mainly as a consequence of the spread of COVID-19 and increasing conflict tensions. MSB are currently providing three new large scale deployments to facilitate humanitarian presence in hard to reach areas in South Sudan, the Democratic Republic of Congo (DRC) and to the border area between Sudan and Ethiopia.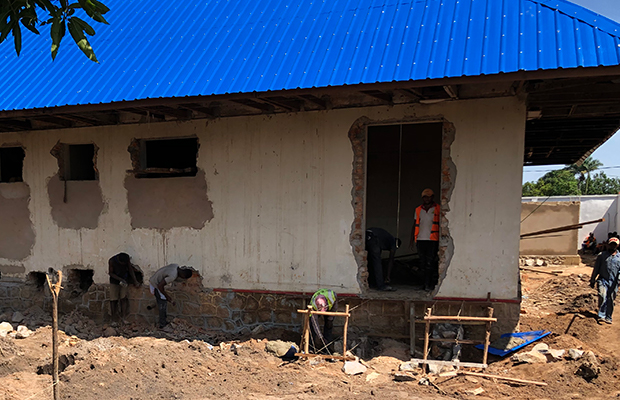 Two MSB teams have been deployed to construct locally built facilities in seven different locations in South Sudan and DRC. The support will enable long-term humanitarian presences in areas that are difficult to access, as the areas are very remote and insecure. Another team, jointly deployed by MSB and partners within the International Humanitarian Partnership (IHP), is mobilizing tented facilities to support UNHCR in Sudan. The support is used in the response to the large influx of refugees from the erupted conflict in the Tigray region in Ethiopia. MSB and partner personnel are currently working round the clock to ensure that all necessary parts of the facilities are delivered, transported to the sites and established in a proficient manner. These three new deployments will provide more than 150 humanitarian staff with proper conditions to carry out the important and urgent delivery of humanitarian assistance.
The intention is to ensure that humanitarian workers can perform their daily work in regards to providing food, water, healthcare, protection and other services to affected people for their survival. So-called humanitarian hubs are office and accommodation facilities for humanitarian organisations. They contain office space, accommodation, security installations, power supply, water supply, sanitary facilities, communication equipment and often logistics areas. The humanitarian hubs brings improved living and working conditions for the humanitarian personnel. In turn, this enables our partners to increase operational efficiency to respond better to the needs of the most vulnerable people.
Worse conditions due to COVID-19
COVID-19 has exacerbated the dire situation in many areas of the world, leaving the affected population in an even worse situation than before. The possibility to reach humanitarian services and assistance is decreasing with COVID-19 restrictions. MSB is trying to reduce the effect of limited humanitarian access, by serving the humanitarian community in several high-risk areas and in countries with high access constraints. Since the pandemic erupted, MSB has deployed several support projects to the United Nations and its partners, specifically to support implementation of COVID-19 measures.
For example, about 90 large facility tents has been delivered to the World Food Program (WFP) in Cameroon and Burkina Faso. With the support of WFP and IHP, MSB has also delivered about 60 tents and support equipment to support local response organisations in the Idlib area in northwestern Syria.
– WFP continues to provide lifesaving food assistance in a COVID-19 sensitive way to the most vulnerable people. It is more important than ever to put in place extraordinary measures to safeguard the health of the humanitarian workforce and the people we serve. We need to enable partners to stay and deliver, says Says Mailin Fauchon, Head of WFP Augmentation Logistics Intervention Team in Emergencies.
She continues
– The timely arrival of the tented facilities, donated by MSB, has allowed us to boost the capacity of Governments and the humanitarian community to respond in remote areas of Cameroon and Burkina Faso. It has had a positive impact on the safety of operations. Thanks to the generous donation of MSB, partners were able to carry out safe distribution of life-saving supplies, to protect patients and health staff from possible contamination, to enhance hospital attendance rate by creating separate facilities to COVID-19 screening, and to provide a safe space for training.
– Our aim is to ensure that humanitarian organisations can deliver as effectively as possible. It is even more critical as the circumstances with COVID-19 makes it more difficult to operate in many areas. If we improve the conditions for the humanitarian community to deliver much needed assistance, we have succeed. As an example, more than 30 000 people are fleeing from Ethiopia to Sudan and we are deploying to the border area to support. We are proud to be able to put concrete actions in place to the frontline response of the humanitarian community, says Per Velandia, Programme Manager in the Humanitarian Section, MSB.
MSB:s work with international operations
MSB works with international operations in different ways, mainly through humanitarian and peace support operations and by strengthening disaster preparedness. This news article addresses our humanitarian operations.