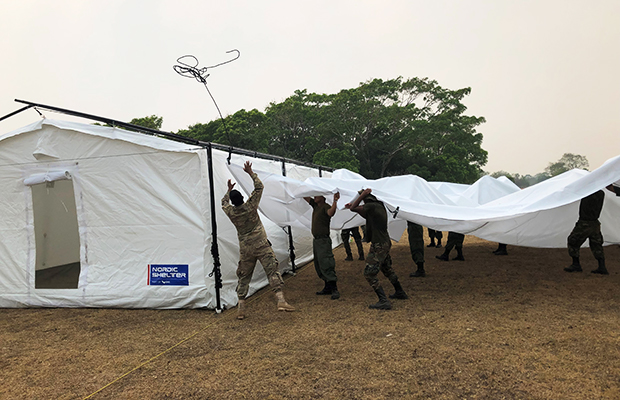 As the Amazon wildfires continue to rage, Bolivian authorities and countless volunteers are fighting the fires in the remote terrain that is the Bolivian Amazon rain forest, also known as la Chiquitania.
− There was no accommodation for people fighting the fires, since the sites are quite far from any town. A great deal of resources and time had to be devoted to transporting aid workers to and from the affected areas. Now, everyone can focus on fighting the fires, comments Sofia Westberg, team leader for the MSB task force in Bolivia.
− This area is of particular interest because the Noel Kempff Mercado national park is only a few kilometers away. The national park is 1,500,000 hectares of virgin rain forest. The flames reaching it would be disastrous. Plus, the fire would be very difficult to fight because of the area's remote location, says Sofia Westberg.
Last week, following a request sent to the EU's Emergency Responce Coordination Centre, MSB decided a to send a scalable housing solution for 200 people, and a team of five experts. For a few days now, the team has been staying in San José de Campamento, a small community near the Brazilian border in northeast Bolivia.
− The effort has run smoothly, much thanks to excellent support from the Bolivian civil defense and military. Several people have received training in how to set up, run, and dismantle the base camp. As the team returns to Sweden on Sunday, the material will be donated to the Bolivian government, Sofia concludes.